Camden Town was built broadly from south to north, over the eighty years 1790-1870. The land either side belonging to Lord Southampton on the west, the Bedford Estate to the south, William Agar to the east and to educational charities to the north – which remained undeveloped until the 1850s.
Note: the names of some early roads are different from now.
Hampstead Road became High Street Camden Town
Kings Road (or sometimes Grays Inn Road) became St Pancras Way
King Street became Plender Street
Fig Lane became Crowndale Road
College Street became Great and then Royal College Street
Prebend Street became Baynes Street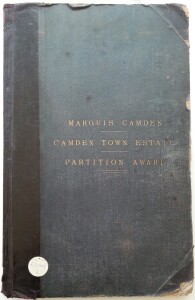 A street list was created by the Ecclesiastical Commissioners. In 1850, it included several 'terraces' and 'places' that were subsequently within a revised list, by street and house number, at the partition of the estate in 1875.
The house numbers in some streets were also changed – for example, see Bev Rowe's page renumbering Camden Road
The first buildings – 'Camden Place' – were southwards from the Mother Red Caps down to Crowndale Road and the Veterinary College by the Fleet and Kings Road. The first new roads were across rather than northwards.
The Regent's Canal, completed in 1820, was a significant feature for Camden Town, creating new commerce by the wharf-sides and requiring five bridges for road crossings.
The Kings Road (now St Pancras Way) was a turnpike road, the oldest road in Camden Town. Development started at the northern corner near Kentish Town, on the Cantlowes manor site and on the north side of the road ('Camden Cottages').
Kirkman & Hendy's land – 1830a and Fleet – 1830b
Developers Kirkman and Hendy took a large lease of 60 acres which was only developed slowly. Some was used as commercial property.
Camden Road, part of 'The new road from Marylebone to Holloway', started from the Mother Red Caps inn, crossed the Fleet in its southern portion, turned uphill and reached the Brecknock Arms at Maiden Lane (York Way). Many of the properties were  substantial single villa houses.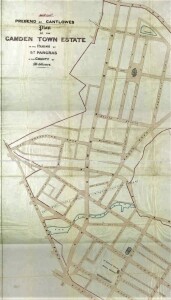 As planned by Joseph Kay, either side of Camden Road were set out squares and crescents
The last building was in larger rows, mainly terraced housing still retaining a 'Georgian' feel.
And amidst all this was construction of the Regent's Canal (1815-1820) and two railways – on viaduct (North London Railway, 1847-49) and in a tunnel (London Midland Scottish, 186os) respectively.