Nineteenth century artists include William Daniel, a painter first of India and later of the English coast (135 St Pancras Way) and Frederick Goodall, orientalist and portraitist at 4 Camden Square.
Twentieth century painters of Camden Town include Kathe Strenitz and Priscilla Thornycroft, and there were several sculptors. More recently Anthony Caro and Paula Rego have had studios.
Many engravers lived in Camden Town – the fathers of educationalist Frances Buss (from Kentish Town) and scientist Oliver Heaviside were engravers.  The large commercial printers Dalziel Brothers at 'Camden Press' in the High Street and Goodalls in College Street  employed engravers, as well as the printers and publishers more centrally in London.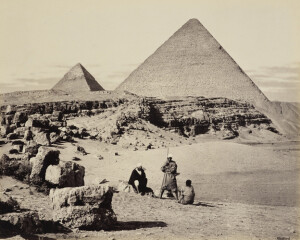 Camden Town photographers  made technical and artistic innovations and some were of national standing. Francis Bedford, at 22 Camden Road Villas (119 Camden Road, now demolished) and gained commercial success when he accompanied the Prince of Wales on a visit to Egypt and Palestine in the 1860s. Valentine Blanchard's studio was at 128 Camden Road, beside Brecknock Crescent, and he lived opposite at 12 Camden Cottages.  Edgar Prout, brought up in Euston Square, was at 13 Murray Street, by Camden Square, from 1866 and then, from 1887 until 1900 at 76 St Paul's Road (now Agar Grove), beside the  London Midland Railway line, looking down towards St Pancras Station.
Not the Camden Town Group?
In 1907, Richard Sickert, recently returned from France, brought together younger painters at his studio in Fitzroy Square. Already painting female nudes on beds, he entitled several as 'The Camden Town Murder', after a  sensational trial of the murder of a prostitute in St Paul's Road (now Agar Grove).  From 1910, Sickert and Gore rented rooms in Mornington Crescent and a new group was formed, taking the name 'Camden Town Group' to be controversial.  Yet Sickert had many studios, including in Kensington and Brighton, and spent much of his time in France. He lived only briefly at 81 Camden Road (since demolished) with a studio nearby. Hardly any artists in the group actually painted Camden Town.
May 2019